Related Links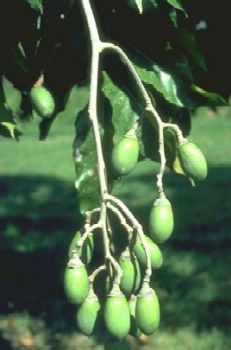 Tree; taken at: Los Angeles County Arboretum - Arcadia, CA and The National Arboretum - Washington, DC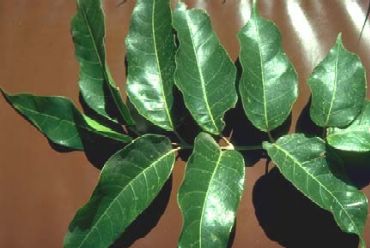 Bark; taken at: Los Angeles County Arboretum - Arcadia, CA and The National Arboretum - Washington, DC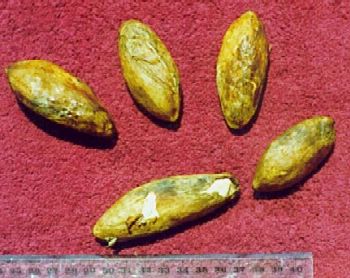 Fruit; taken at: Los Angeles County Arboretum - Arcadia, CA and The National Arboretum - Washington, DC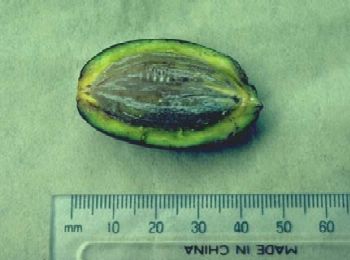 Flowers; taken at: Los Angeles County Arboretum - Arcadia, CA and The National Arboretum - Washington, DC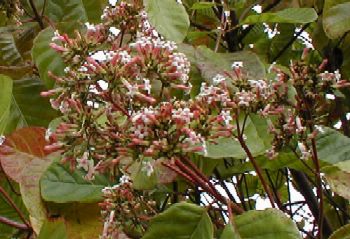 Stems at Makawao, Maui, Hawaii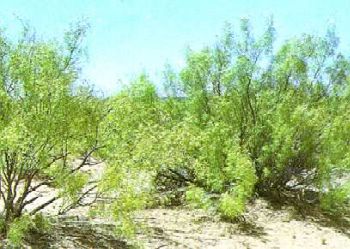 Fruit at South Lido Beach, Florida

Habit at Makawao, Maui, Hawaii

Leaves and fruit at Kokomo Rd Haiku, Maui, Hawaii. 

Local names:
 English (Florida holly,christmasberry tree,broadleaf pepper tree,Brazilian pepper tree,Bahamian holly), French (poivrier du Bresil,faux poivrier), German (Brasilianischer Pfefferbaum), Spanish (pimienta de Brasil,copal)
S. terebinthifolius is a small tree, 3-10 m tall (ocassionally up to 15 m) and 10-30 cm diameter (occasionally up to 60 cm). S. terebinthifolius may be multi-stemmed with arching, not drooping branches.

Leaves pinnate, up to 40 cm long, with 2-8 pairs of elliptic to lanceolate leaflets and an additional leaflet at the end. Leaflets glabrous, 1.5-7.5 cm long and 7-32 mm wide, the terminal leaflet larger than lateral ones. Leaf margins entire to serrated and glabrous.

Flowers white, in large, terminal panicles. Petals oblong to ovate, 1.2-2.5 mm long. 

Fruits globose, bright red drupes, 4-5 mm in diameter.

This is a highly invasive species that has proved to be a serious weed in South Africa, Florida and Hawaii. It is also noted as invasive in other Caribbean and Indian Ocean islands.  Rapid growth rate, wide environmental tolerance, prolific seed production, a high germination rate, seedling tolerance of shade, attraction of biotic dispersal agents, possible allelopathy and the ability to form dense thickets all contribute to this species' success in its exotic range.
Ecology

Brazilian pepper tree is particularly found on forest borders and river margins. It is associated with damp soils and riparian forest habitats, although it may also appear as a dry savannah plant.
Native range
Argentina, Bolivia, Brazil, Chile, Paraguay, Uruguay
Tree management

Since Brazilian pepper tree can be invasive if not properly managed, application of appropriate mechanical, chemical and biological measures should be employed to check its wanton spread.
Seed storage orthodox and seeds can maintain viability for about 5 months.
Brazilian pepper tree is particularly found on forest borders and river margins. It is associated with damp soils and riparian forest habitats, although it may also appear as a dry savannah plant.
Schinus terebinthifolius can be propagated from seed, cuttings and suckers.  It has a high seed germination rate and good seedling survival, partly because of the plant's ability to tolerate shade.  Vegetative propagation from suckers takes place, even when no damage to the roots has occurred.
Poison:  S. terebinthifolius may cause allergies in sensitive people even without direct contact with its leaves and fruits. For some birds, the fruit is toxic.
S. terebinthifolius has a high ecological plasticity, a short life cycle and very rapid growth; it is therefore recommended for the restoration of degraded areas and especially gallery forests.
Erosion control: The tree has been used to stabilize sand dunes on the Brazilian Atlantic coast.
  The fruits are highly appreciated as a condiment in Europe, where they are used as a substitute for black pepper (Piper nigrum).
Brazilian pepper tree produces good quality fodder, especially for goats, but it must be used carefully because of the toxicity of some of the plant parts. The fruits are eaten by birds including American robins, and mammals, both raccoons and possums.
Apiculture: Brazilian pepper honey is highly valued especially in Florida, ensuring high incomes for beekeepers.
the wood is also used for fuelwood and charcoal.
Timber:  the Brazilian pepper tree does not have significant commercial value in brazil, but is generally used for posts, round wood; stakes; pit props; pulp and short fibre pulp.
Tannin or dyestuff:  also a source of tannins
Medicine:  S. terebinthifolius is well known for its medicinal characteristics
Gum or resins:  the tree is a source of resins
Ornamental:  S. terebinthifolius has an attractive appearance and has therefore been introduced in many areas as an ornamental and street tree.
Boundary or barrier: The tree is also used in hedges.
Essential oils:  Essential oils extracted from the seeds of S. terebinthifolius have pesticidal activity against the housefly (Musca domestica) and its antimicrobial properties have also been investigated.